Andeana Events
Join Andeana at ROW DTLA in Downtown Los Angeles! ROW DTLA is a collective of entrepreneurial innovators who are pushing LA culture forward with concepts designed to make a global impact. This edited set of brands offer the finest in experiential retail and wellness: fresh, unique, and uplifting! We are so excited to collaborate with these exquisite brands and influencers to provide you with the event calendar below. All you have to do is RSVP with your email and we will see you there!
Location: ROW DTLA
767 S. Alameda St.
Los Angeles, CA 90021
Ste #158: Laura Grier Travel Fine Art Gallery and Event Space
Ste #162: Andeana Hats Global Impact Marketplace
Dates: May 21 - June 12, 2019
Hours: Open Daily 11am - 7pm, daytime and evening event times are listed below
Andeana Global Impact Marketplace & Row DTLA Event Calendar
May 21, 2019
EMPOWERING THE HEART OF BIZBABES
6:00pm - 8:00 pm
An evening of elixirs, meditation, conversation and community. If you're ready to lead your life, your passion project & your business with authentic power~ get ready to IGNITE your Heart Power with a deep sense of clarity, purpose and conviction! 6pm:
Welcome Elixirs and Mingle. 6:30PM: HeartRise Method Intro + Guided Meditation Experience journey to activate. 7pm: Leadership Panel On Creative Entrepreneurship & being an authentic voice in a busy world, Moderated by Jessie May, Wolfe of HeartRise Movement and Heather Roma of The Westside Collective. Featuring Laura Grier from Andeana Hats, Cassandra Troy Walker from Little West and Eileen Rosete from Our Sacred Women. 8pm: Intention Setting + Closing Circle. Sign Up Here.
Andeana HATS Grand Opening Party!
May 22, 2019
ANDEANA HATS GLOBAL IMPACT MARKETPLACE GRAND OPENING
7:00pm - 10:00pm
Get to know Andeana Hats at our Official Pop-Up Launch event. Andeana Hats are handmade intention hats created in the Sacred Valley of Peru. We are transforming our space at the ROW into a Global Impact Marketplace featuring our parters NOVICA and Awamaki. Awamaki invests in women's skills, connects them to market access and supports their leadership so they can increase their income and transform their communities. Novica's mantra is to empower artisans, connect and mentor, and preserve endangered traditions. These are all powerful, fundamentally important mantras that drive us all to work together in this shared goal of spreading global happiness. Enter to win your own hat during our exclusive giveaway and enjoy live music by Devvlov.com @AndeanaHats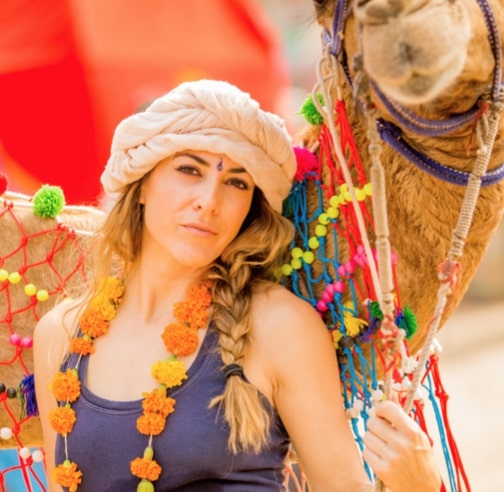 Laura grier Fine Art Gallery Grand Opening
May 22, 2019
LAURA GRIER FINE ART GALLERY GRAND OPENING
7:00pm - 10:00pm
Get to know Laura Grier and her Wanderlust Travel Fine Art Photography art pieces at the official Andeana Hats & Laura Grier Fine Art Gallery Kick-off Party! Laura Grier has been called the Indiana Jones of Adventure Travel Photography and is a recent addition to the Discovery Channel UK's "20 Richest People in the World List", people who are rich in life experiences that is. Living abroad from a young age, it is no surprise that Laura turned her life of travel, adventure, and exploration into a profession. As a photojournalist for the past 18 years, Laura has photographed on all 7 continents and has made a life out of exploring the world, capturing, and writing about her experiences. Enter to win an Andeana hat and enjoy live music by Devvlov.com
@LauraGrierTravel
MAY 23, 2019
MUSIC & STORYTELLING WITH MAIARA WALSH
7:00pm - 10:00pm
Join us for an incredible event with influencer Maiara Walsh. Maiara is an American/Brazilian singer, songwriter and actress who will be leading a Music & Storytelling night with other artists! You may know Maiara as Ana Solis from Desperate Housewives or as Simon from the series Switched at Birth @maiarawalsh


May 24, 2019
UnleaSHE YOU POP UP PHOTOSHOOT
10:00am - 4:00pm
Keep the labels you like. Let go of the ones you don't, because labels do not define you. You define you! Join us from 10am-4pm for a photoshoot with a goal to expand awareness on the growing issue of bullying. $25 Donation. Proceeds benefit Boo2Bullying. Must book reservations ahead. @unleashe_official



May 27, 2019
DAYTIME LIBERTY FOR HER MEET UP
11:00am - 12:30pm
Join us for a LIBERTY member meet up. Meet and mingle with like-minded entrepreneurial women to expand your professional network. Not a member yet? That's okay come and learn what we are all about and meet a few the amazing female founders doing business together.
@libertyforher



May 27, 2019
BREATHWORK + SOUND BATH WITH NISH FOX
7:00pm - 9:00pm
Experience a "life altering" deeply healing and relaxing breathwork and sound session. The power that flows through us connects us with the universe, and makes us luminous and desirable. Wind down with sound vibrations that will deepen you perfectly into love and serenity. Tickets are $20 or $30 at the door. @nishy_nish_yogini
MAY 28, 2019
unleaSHE: NETWORK TO BUILD YOUR TRIBE
6:00pm - 10:00pm
A speaker series featuring dynamic speakers who can share their entrepreneurial journey and teach lessons that bridge passions with profitable business strategies. 6pm – 6:30pm Arrival & Mingle, 6:30pm - 8pm Panel Discussion, 8pm-10pm Social Mixer. Sponsored by: Wine Society $10 admission ticket.
@unleashe_official
May 29, 2019
LIBERTY SESSIONS WITH NADA JONES LIVE PODCAST EVENT
7:00pm - 9:00pm
Join us for a glass of wine and a live podcast of Liberty Sessions with Nada Jones. This, tell it like it is, podcast is dedicated to sharing the stories of female founders to inspire women to consider their possibilities and launch and grow their own entrepreneurial ventures. @libertyforher @nadajones
Tickets and More Info Here.
May 30, 2019
HELD EVENT WITH AVIVA MOHILNER
7:00pm - 10:00pm
HELD is a guided practice that taps into the transformative power of human connection and healthy, nonsexual touch. Through simple exercises, you'll experience being seen for your true self, heard without judgement, and physically nurtured in ways that we so often miss in our regular lives. 7:00-10:00PM, Tickets $33 @weareheld
JUNE 9, 2019
JESSIE MAY'S HEARTRISE POPUP WORKSHOP
7:00pm - 10:00pm
Jessie May, founder of HeartRise Movement joins us to lead this powerful, playful workshop for entrepreneurs, changemakers and passionate souls. The HeartRise method is a practical and highly accessible, 4 step process to unleash the intelligence of the human heart. Empower innovation, turn stress into fuel, and communicate more effectively.
@heartrisemovement
JUNE 10, 2019
BREATHWORK + SOUND BATH WITH NISH FOX
7:00pm - 9:00pm
Experience a "life altering" deeply healing and relaxing breathwork and sound session. The power that flows through us connects us with the universe, and makes us luminous and desirable. Wind down with sound vibrations that will deepen you perfectly into love and serenity. Tickets are $20 or $30 at the door. @nishy_nish_yogini

June 10, 2019
DAYTIME LIBERTY FOR HER MEET UP
11:00am - 12:30pm
Join us for a LIBERTY member meet up. Meet and mingle with like-minded entrepreneurial women to expand your professional network. Not a member yet? That's okay come and learn what we are all about and meet a few the amazing female founders doing business together. Tickets and More Info Here.
@libertyforher