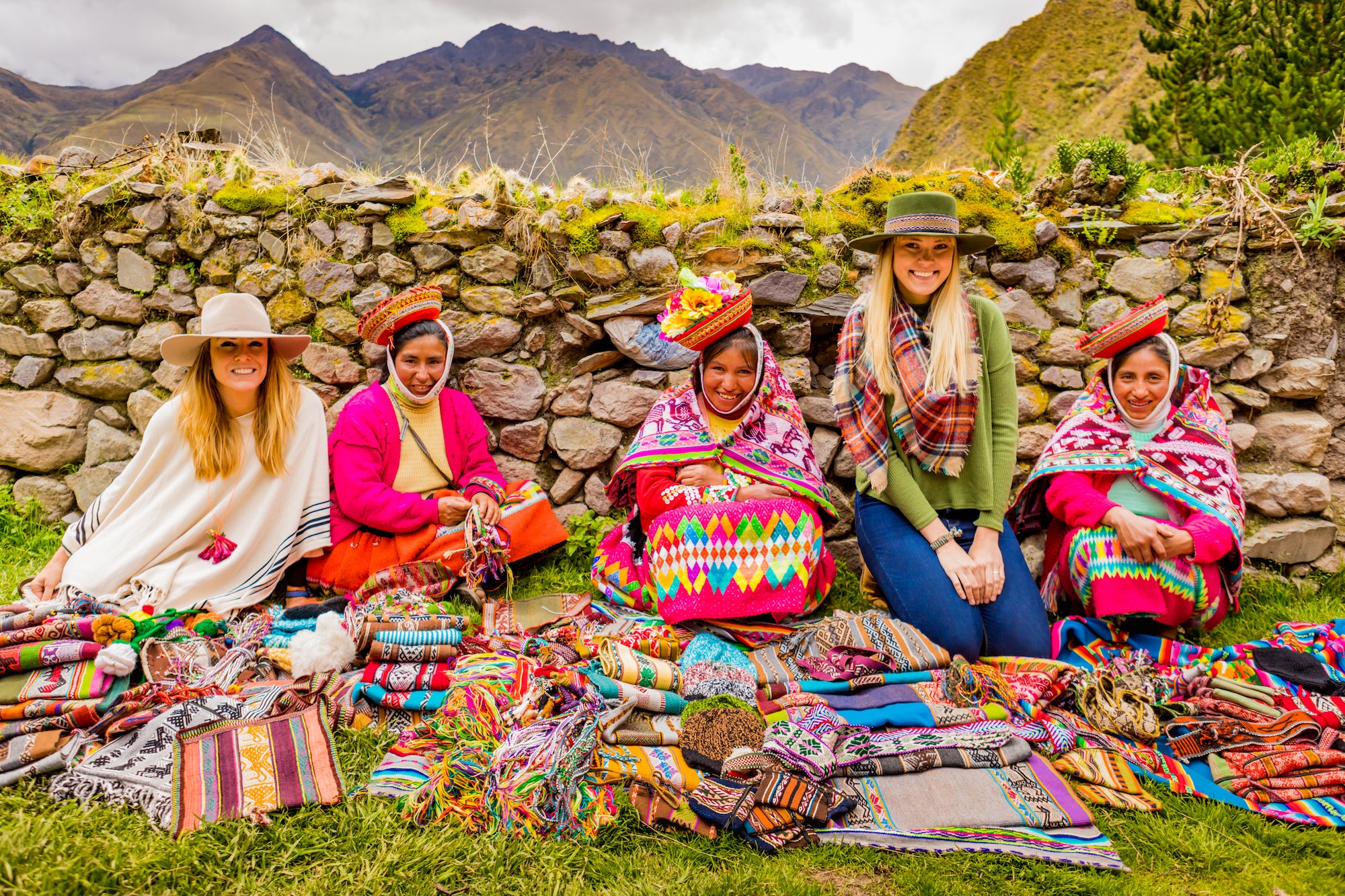 The mission behind the creation of Andeana Hats is to empower women, help support global artisans to continue their vanishing crafts, and enable them to support themselves and lead their communities out of poverty.
Andeana Hats has partnered with Awamaki, a non-profit organization based in Ollantaytambo in the Sacred Valley, who work closely together with multiple indigenous communities in the remote mountains of Peru to empower women and connect them to global market places like Novica in Association with National Geographic. Awamaki invests in women's skills, connects them to market access and supports their leadership so they can increase their income and transform their communities. Novica's mantra is to empower artisans, connect and mentor, and preserve endangered traditions. Additionally, Andeana recently partnered with Artesanías Aylluyki, a multi-generational family run embroidery artisan group based in Ayacucho, Peru. These are all powerful, fundamentally important mantras that drive us all to work together in this shared goal of spreading global happiness through traditional crafts.
The concept for "Andeana Hats" was born because of the shared affinity for the Sacred Valley, Peru, its culture, energy and people by co-founders, Laura Grier and Pats Krysiak. While trekking together on the infamous Ausangate trek across the Rainbow Mountains, Pats and Laura came across many amazing Andean women and were captivated with their unique hats and weavings. Determined to share the energy of the Sacred Valley with the world and to help bring awareness to these female artisans and their cultural practices, Laura and Pats came up with the concept of a hat company that combines their traditional hat styles and weavings.
Every Andeana Hat and Intention Band is hand shaped or woven out of alpaca wool by Quechua artisans living in the Andes Mountains of Peru. The Quechua language is an oral or woven language; not written, so by keeping these weaving designs alive we are essentially keeping their language and history alive. These descendants of the Inca people are practicing what National Geographic refers to a "vanishing art"; an ancient weaving or embroidering tradition that has been passed down through the centuries by the women in their culture. Without a global marketplace to share and sell these goods, these traditions will die out.
Since the inception of Andeana Hats, Laura and Pats have been honored by the Embassy of Peru in Washington D.C. for their dedication to helping the Quechua people in Peru and Laura's photography work is on permanent display there. Andeana Hats has also participated in numerous pop-ups and storytelling events including Billy Reid Georgetown, ROWDTLA in Los Angeles, and La Cosecha Market in Washington D.C. celebrating Latin American Culture. As members of the Female Founder Collective, National Geographic's Women of Impact, and the Good Market, Laura and Pats continue to find innovative ways to create sustainable income opportunities for the artisans by launching "Andeana Travel" philanthropic trips to Peru. Their first trip launched in 2020 and was featured by Forbes as an origin trip lead by successful Women Founders and also by Matador Network as a company that actually gives back.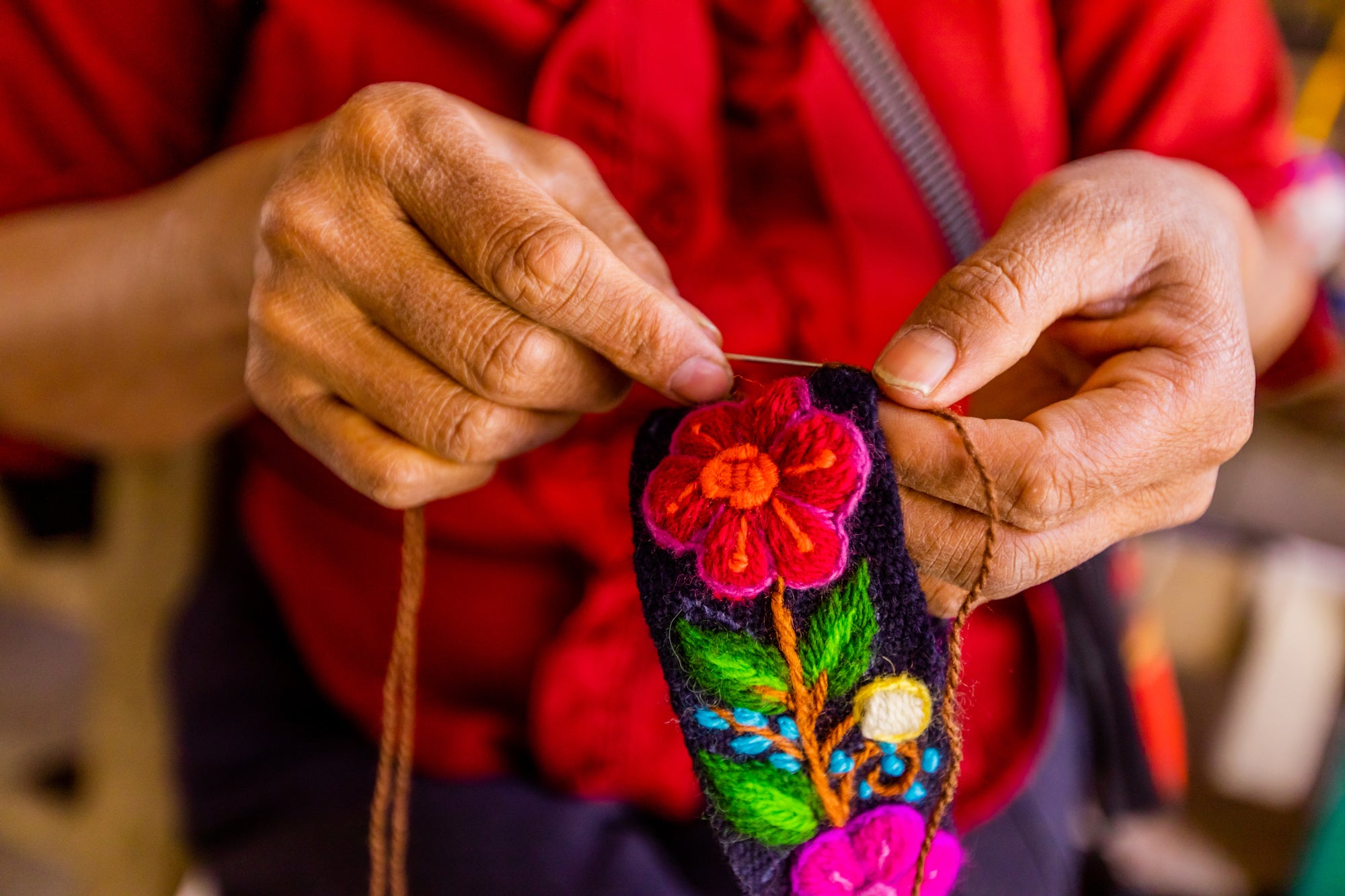 About the
Artisans in Peru
In Peru, Andeana works with a variety of Artisans who are preserving vanishing crafts. Our partnerships are in Ayacucho, Huilloc, Patacancha, Kelkanka and the Cusco region.
Awamaki Weavers
To the women of the Huilloc, Patacancha and Kelkanka communities, it is vital to pass their weaving traditions on and teach their children to be able to recreate the ancient patterns of their people so that they won't get lost. The women usually weave a few hours a day, mixed in with their other household responsibilities like taking care of the animals, cooking, cleaning, and being home with the children. Now, many of the women are making more money than their husbands due to the success of selling their textiles. Rather than feel threatened, the men have positively embraced this shift in roles of the women becoming the breadwinner of the family and they have started to help take care of the kids and contribute in the daily chores. This work allows them to buy more things like clothes, food, school supplies, and medicine. They are also learning the importance of self-confidence, and making their own decisions based on their wants and needs.
Ayacucho Weavers
Peruvian embroidery artisans from Ayacucho belong to the Wari culture, which flourished pre-Inca between 800 and 1100 AD. They are weavers and embroiderers of traditional textile art that has been passed down through the generations of women for almost 2,700 years. These hand-woven textiles, made on pedal looms mainly made of alpaca and sheep's wool, display hand embroidery techniques such as "relleno", otherwise known as fill point and high relief. Embroiderers work with decorative motifs inspired by nature, representing local flora plants, such as walnut (brown), molle (green), chilca (yellow), and mealybug (red).
Our artisan partner Margarita, and her daughter Cynthia, tell us that Ayacucho has a long history of socio-political violence from Colonial times to the Guerrilla insurgency in the 1980's, prompting Simon Bolivar to rename the city from Huamanga to Ayacucho, meaning "Corner of Death" in Quechua. During times of conflict, the women of Ayacucho became the main bread-winners of their families through selling their embroidery. Now in peacetime, they have introduced more vivid colors as a sign of the rebirth of a city that was once destroyed and today the famous embroidered flower motif represents joy and new flourishing times.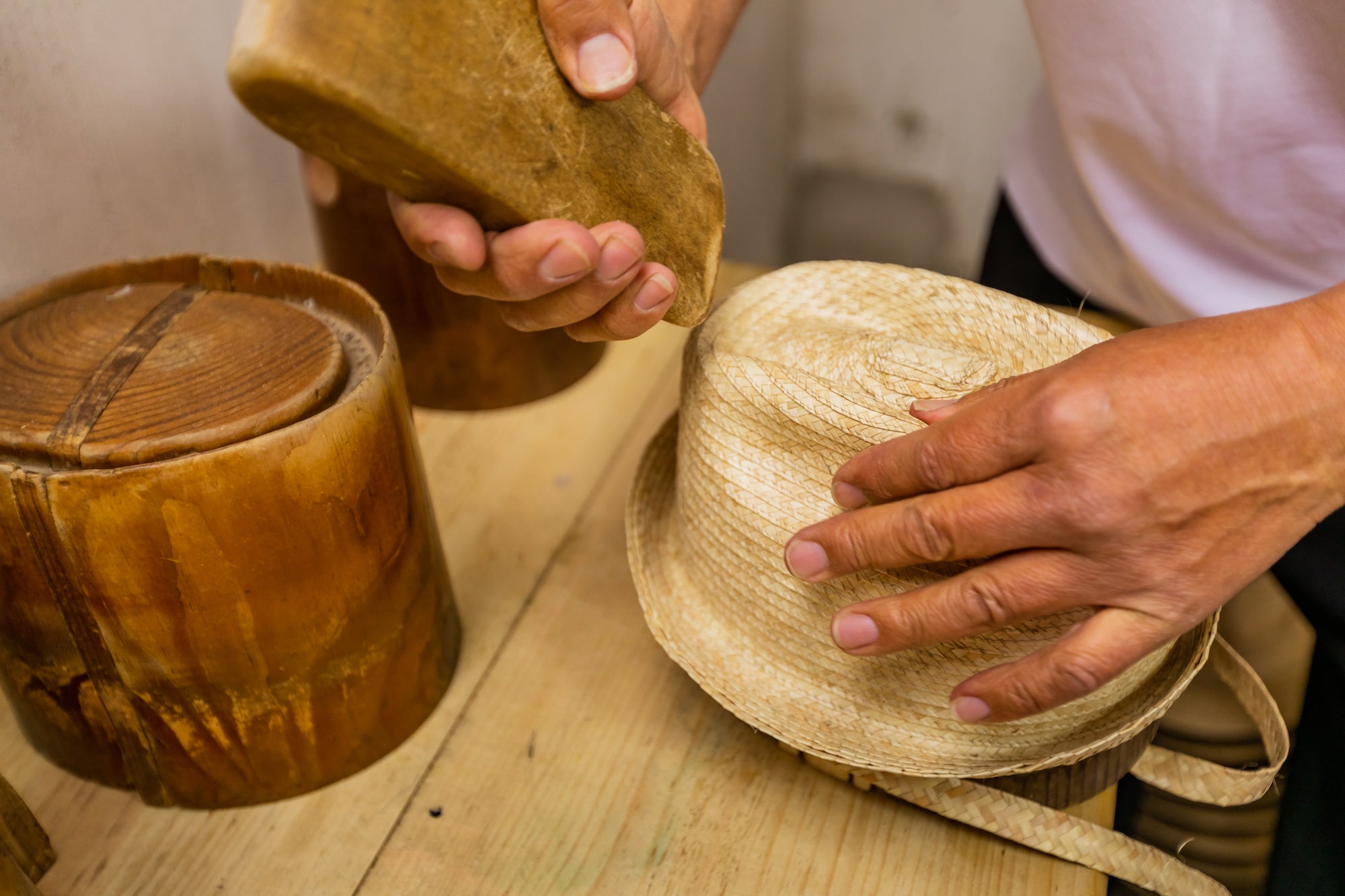 About the
Artisans in Guatemala
Guatemalan palm hat making Artisans from the Santa Cruz del Quiché region belong to the K'iche culture who are indigenous peoples descending from the Maya. The K'iche language is one of dozens of Mayan languages that still exist today in Guatemala.
K'ICHE Hat Makers
The art of making palm hats has been passed down for centuries within families of hat maestros. The K'iche are passionate about this art and very proud of displaying their craft to the world, because it blends all of the things that inspire them most; traditional K'iche art, the environment, and working together as a family. The art of Hat making has bettered the quality of life of many artisan families from this region in Guatemala. This type of craftsmanship is not just reserved for the women, but is a shared art form between parents, husbands and wives, their children and multiple generations of family members who all work together as an entrepreneurial team. Everyone in the business is considered an equal and has helped change the idea of gender roles within their communities. Mostly men have been the designated hat shapers and tailors and the women have been responsible for the weaving designs and braiding of the palm leaves.
Andeana Hats works with a group of over 200 Artisans who are a collective of about 20 K'iche families who all work together to produce the palm hats. Justo Reynoso is the leading craftsman of our collective. At 60 years old, he says that he started learning this art because his parents taught it to him since he was a child playing with making hats. His wife, Viviana Tavico, also was taught as a child the art of making hats. When they got married they both dedicated themselves to the art of making palm hats just like their grandparents did before them. Together they have more than 50 years of experience in the art of making hats, and have perfected designs passed down over the centuries to them. Now their children are the fourth generation of palm hats makers in their family and the tradition will carry on.
Although the K'iche artisans live very modestly, they still give back 15% of their proceeds to families in even more need than them and have funded building local schools and community projects. They are extremely conscious about sustainability and the environment and all of their hats and products are 95% recyclable. As a further demonstration of their passion to protect the natural beauty of Guatemala, they recently gathered thousands of plastic bottles and waste in their communities and recycled the bottles into the construction of the walls and foundation of a new school. They are proof that if you work together as a family you can accomplish anything you set your mind to.
Tinte Maya is a collective of 25 weaving artisan women from San Juan La Laguna, a small community by Lake Atitlán, Guatemala, who use natural plant dye techniques and weaving traditions to design and create wearable art. Their craft and our collaboration allow them to earn a livelihood, be breadwinners in their homes, send their children to school, and to preserve their artisan traditions.
Juana is a natural dye artisan, weaver, Tz'utujil Maya woman, and member of this cooperative of women artisans who are building better lives through their art.
About the founders
The concept for "Andeana Hats" was born out of the shared affinity for the Sacred Valley, Peru, its land, culture, energy and people by both founders, Laura Grier and Pats Krysiak. While trekking together on the infamous Ausangate trek across the Rainbow Mountains, Pats and Laura came across many amazing Andean women and were captivated with their unique hats and weavings. Determined to share the energy of the Sacred Valley with the world and to help bring awareness to these female artisans and their cultural practices, Laura and Pats came up with the concept of combining their personal hat styles with their traditional weavings to create apparel that captures the energy and culture of the Andean people and infuses it into the everyday life of those who wear them.
Laura Grier
Laura Grier has been called the Indiana Jones of Adventure Travel Photography and is a recent addition to the Discovery Channel UK's "20 Richest People in the World List", people who are rich in life experiences that is.  Living abroad from a young age, it is no surprise that Laura turned her life of travel, adventure, and exploration into a profession.  As a photojournalist for the past 20 years, Laura has photographed on all 7 continents and has made a life out of exploring the world, capturing, and writing about her experiences. 
The most satisfying work that Laura has done in her career has been through her work with Novica, National Geographic's catalog that represents global artisans who are practicing "Vanishing Arts". Through her work with Novica over the past 12 years, Laura has traveled numerous times to Peru and has quickly fallen in love with the culture and people. Passionate about mentoring, women's education, photography and travel, Laura leads travel workshops, expeditions, and is an ambassador for sustainable travel brands like Impact Travel Alliance and Travel with Meaning. 
Currently, Laura together with partner Pats Krysiak, has fused all of her passions of travel, photography, fashion, and empowering women into one passion project; Andeana Hats.
Pats Krysiak
Pats Krysiak grew up knowing different cultures, languages, and continents being born in Poland, growing up in Canada, and now living Peru for the past 10 years. While in university, she received the opportunity to travel to Peru with an NGO to work in Cusco, the Sacred Valley, Piura and Lima. Back then, Pats sparked an idea to develop an e-commerce website to offer the rest of the world the unique apparel products made by Peruvian artisans and designers.
While working in the business side of the Peruvian textile and fashion industry, she simultaneously explored the vast terrains of Peru and South America. Falling in love with the magic of the Amazon rainforest and the wonders of the Andes mountains, Pats has promoted the Peruvian travel industry through her extensive work with Amazon River cruise companies and has since launched a natural skincare line based on superfoods sourced from the Peruvian Amazon called Flora Ritual. Now, with the launch of Andeana Hats with co-founder Laura Grier, Pats is combining all of her passions into one.
In 2020, Pats completed a Certificate in Sustainable Business Strategy from Harvard Business School Online and through Andeana, works closely with NGOs like Awamaki to invest in women's skills and their business development. Pats aims to connect women in developing countries to global marketplaces, so they can create sustainable income opportunities to help lead their communities out of poverty. Pats is a member of the Female Founder Collective, a network of businesses led by women, supporting women.