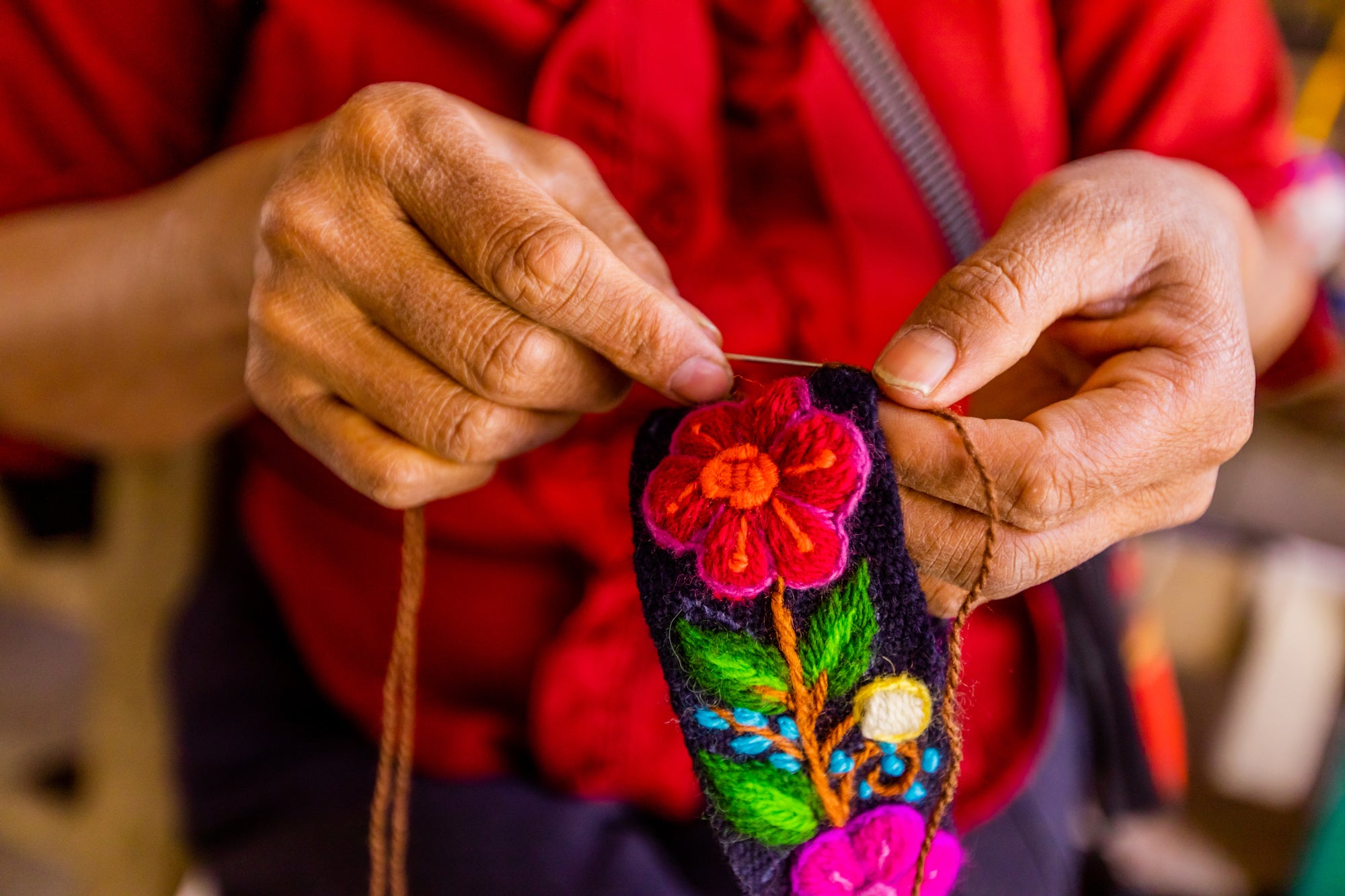 About the
Artisans in Peru
In Peru, Andeana works with a variety of Artisans who are preserving vanishing crafts. Our partnerships are in Ayacucho, Huilloc, Patacancha, Kelkanka and the Cusco region.
Awamaki Weavers
To the women of the Huilloc, Patacancha and Kelkanka communities, it is vital to pass their weaving traditions on and teach their children to be able to recreate the ancient patterns of their people so that they won't get lost. The women usually weave a few hours a day, mixed in with their other household responsibilities like taking care of the animals, cooking, cleaning, and being home with the children. Now, many of the women are making more money than their husbands due to the success of selling their textiles. Rather than feel threatened, the men have positively embraced this shift in roles of the women becoming the breadwinner of the family and they have started to help take care of the kids and contribute in the daily chores. This work allows them to buy more things like clothes, food, school supplies, and medicine. They are also learning the importance of self-confidence, and making their own decisions based on their wants and needs.
Ayacucho Weavers
Peruvian embroidery artisans from Ayacucho belong to the Wari culture, which flourished pre-Inca between 800 and 1100 AD. They are weavers and embroiderers of traditional textile art that has been passed down through the generations of women for almost 2,700 years. These hand-woven textiles, made on pedal looms mainly made of alpaca and sheep's wool, display hand embroidery techniques such as "relleno", otherwise known as fill point and high relief. Embroiderers work with decorative motifs inspired by nature, representing local flora plants, such as walnut (brown), molle (green), chilca (yellow), and mealybug (red).
Our artisan partner Margarita, and her daughter Cynthia, tell us that Ayacucho has a long history of socio-political violence from Colonial times to the Guerrilla insurgency in the 1980's, prompting Simon Bolivar to rename the city from Huamanga to Ayacucho, meaning "Corner of Death" in Quechua. During times of conflict, the women of Ayacucho became the main bread-winners of their families through selling their embroidery. Now in peacetime, they have introduced more vivid colors as a sign of the rebirth of a city that was once destroyed and today the famous embroidered flower motif represents joy and new flourishing times.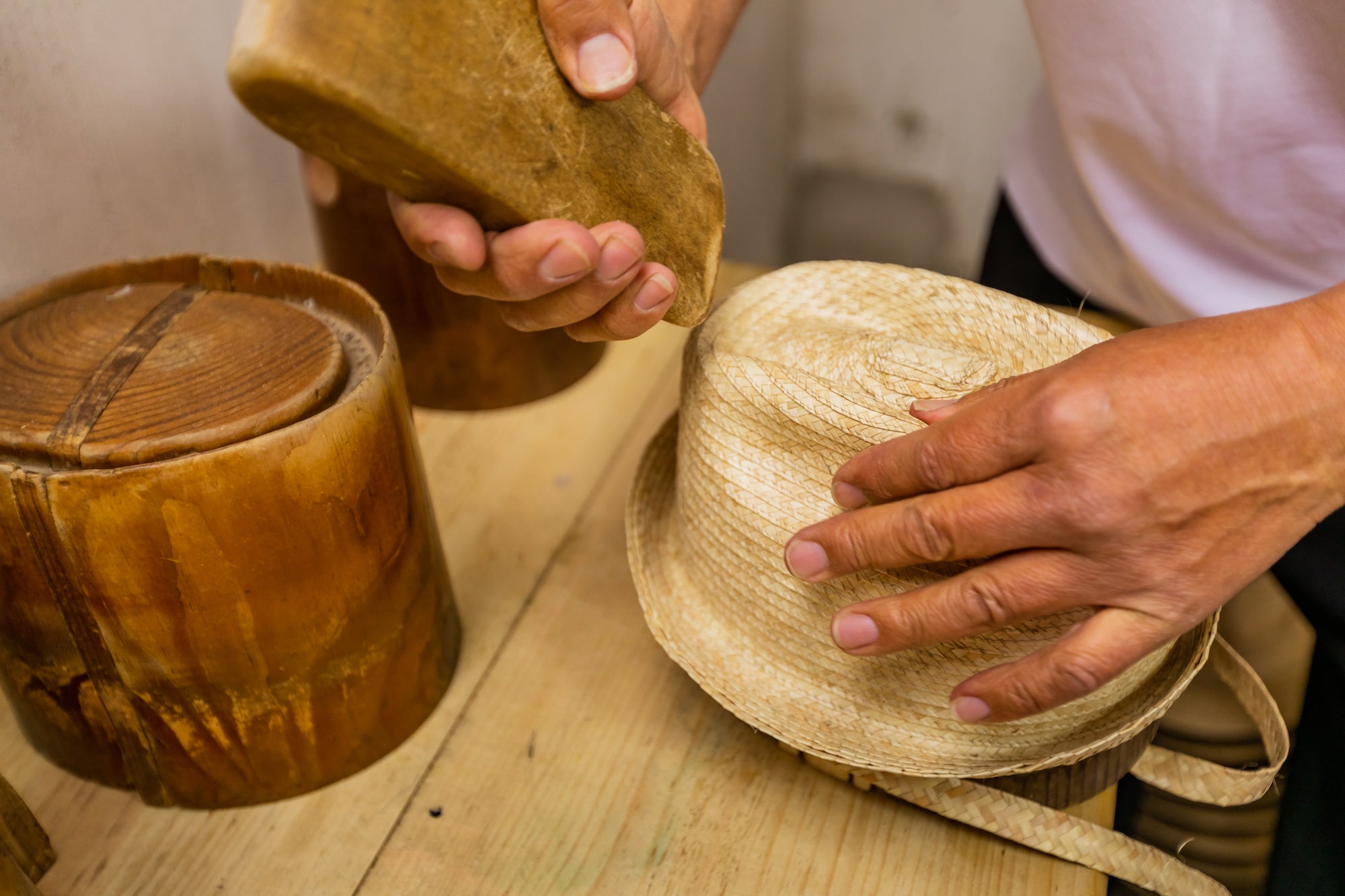 About the
Artisans in Guatemala
Guatemalan palm hat making Artisans from the Santa Cruz del Quiché region belong to the K'iche culture who are indigenous peoples descending from the Maya. The K'iche language is one of dozens of Mayan languages that still exist today in Guatemala.
K'ICHE Hat Makers
The art of making palm hats has been passed down for centuries within families of hat maestros. The K'iche are passionate about this art and very proud of displaying their craft to the world, because it blends all of the things that inspire them most; traditional K'iche art, the environment, and working together as a family. The art of Hat making has bettered the quality of life of many artisan families from this region in Guatemala. This type of craftsmanship is not just reserved for the women, but is a shared art form between parents, husbands and wives, their children and multiple generations of family members who all work together as an entrepreneurial team. Everyone in the business is considered an equal and has helped change the idea of gender roles within their communities. Mostly men have been the designated hat shapers and tailors and the women have been responsible for the weaving designs and braiding of the palm leaves.
Andeana Hats works with a group of over 200 Artisans who are a collective of about 20 K'iche families who all work together to produce the palm hats. Justo Reynoso is the leading craftsman of our collective. At 60 years old, he says that he started learning this art because his parents taught it to him since he was a child playing with making hats. His wife, Viviana Tavico, also was taught as a child the art of making hats. When they got married they both dedicated themselves to the art of making palm hats just like their grandparents did before them. Together they have more than 50 years of experience in the art of making hats, and have perfected designs passed down over the centuries to them. Now their children are the fourth generation of palm hats makers in their family and the tradition will carry on.
Although the K'iche artisans live very modestly, they still give back 15% of their proceeds to families in even more need than them and have funded building local schools and community projects. They are extremely conscious about sustainability and the environment and all of their hats and products are 95% recyclable. As a further demonstration of their passion to protect the natural beauty of Guatemala, they recently gathered thousands of plastic bottles and waste in their communities and recycled the bottles into the construction of the walls and foundation of a new school. They are proof that if you work together as a family you can accomplish anything you set your mind to.
Tinte Maya is a collective of 25 weaving artisan women from San Juan La Laguna, a small community by Lake Atitlán, Guatemala, who use natural plant dye techniques and weaving traditions to design and create wearable art. Their craft and our collaboration allow them to earn a livelihood, be breadwinners in their homes, send their children to school, and to preserve their artisan traditions.
Juana is a natural dye artisan, weaver, Tz'utujil Maya woman, and member of this cooperative of women artisans who are building better lives through their art.